Different sorts of data from numerous sources and in a variety of formats are essential for market analysis, making educated decisions, and delivering excellent customer service. This information may be very sensitive and secret. Due to the increase in data breaches, it is crucial for organizations of all sizes to safeguard their sensitive information. If you are contemplating outsourcing data entry services, you must verify that the organization you choose has stringent data security procedures in place to safeguard the information you give to them. Here are the top four strategies that companies, including data entry outsourcing providers, may implement when ensuring data entry security.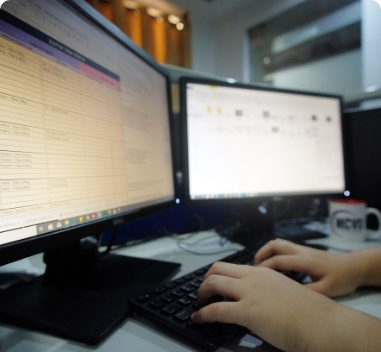 1. Use strong passwords.
To prevent access to data records, passwords are generated. The majority of data breaches are caused by improper password habits. Even the most advanced storage and encryption technology may be undermined by insecure password habits. To maintain safe data storage, businesses must employ complex, difficult-to-crack passwords. As hackers are aware of this strategy, they should not reuse the same passwords. It would be excellent to keep all passwords in a digital vault. Passwords should be safeguarded with the same care as sensitive data. They should never be exchanged or written down at workstations.
2. Use private and strongly protected networks.
Reputable data input firms invest in sophisticated anti-virus software and secure firewalls to safeguard their systems and networks. Numerous firms utilize network isolation to prevent simultaneous access to all data by hackers.
3. Activate two-factor authentication (2FA).
We're sure you're familiar with two-factor authentication. Also known as 2FA, this is offered by a variety of services, including email and banking, to add an additional layer of protection in situations when particular risk factors are present.
4. Consider using biometrics.
No matter how robust the passwords are, there is always a chance that a hacker will be able to figure them out and get access to the account. An excellent option is the use of biometric authentication. To validate a person's identification, it examines either their fingerprints or their iris. Lock codes can add an additional degree of protection to devices that recognize fingerprints as a form of authentication. However, this tool is not completely infallible, and as a result, new tactics are being developed to guarantee that data is collected and deployed in a manner that protects the customers' right to privacy and prevents data thieves from having access to the information.
MCVO Talent Outsourcing Services Ensures Top-Notch Data Entry Security
When you outsource your data entry needs to MCVO Talent Outsourcing Services, you are assured of top-notch data entry security. Book a call with our American executive now to discuss your requirements!