Outsource IT Help Desk Support to the Philippines
We Provide the best IT Help Desk Services
Hire Talented and Experienced IT Help Desk Support Starting at Just $10/Hr. Book a call today or contact us about your requirements.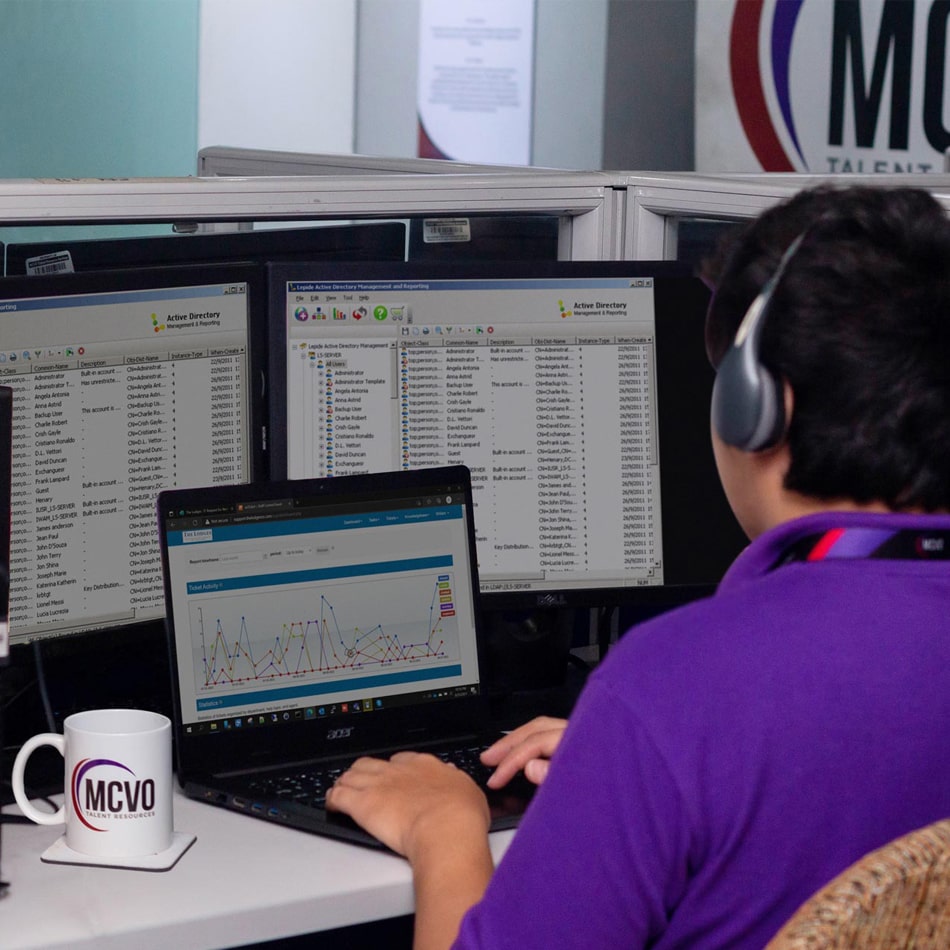 MCVO Talent Outsourcing Services gives you access to talented and experienced IT Help Desk Agents in the Philippines. Our team can easily integrate with your current operations and at the same time, bring new competencies to the table. With extensive training, our help desk professionals will learn your products, services, and processes. As a result, they can effectively provide remote technical support to your staff during and/or after normal business hours.
As an award-winning outsourcing company in the Philippines, MCVO Talent Outsourcing Services understands the importance of having "A" level staff backing up your business. With a mission to provide top-notch outsourcing services to small and medium businesses, we ensure that our outsourced help desk team is fully equipped to help you meet the demands of your company.
Why Outsource IT Help Desk Support?
There are SO many creative Graphic Designers in the Philippines ready to help with Full Time or Part Time work.
Improve Client Satisfaction and Loyalty With our Help Desk Outsourcing Services
As one of the fastest-growing BPO companies in the Philippines, MCVO Talent Outsourcing Services offers a wide range of outsourced IT services. As a business providing services to other businesses, we understand how crucial it is to quickly and effectively provide assistance to your clients whenever they need it. We recognize that technical support is a bit more demanding than customer service. This is why we offer dedicated IT Help Desk services that will suit your need for experienced technical support agents.
With our help desk agents in the Philippines, you can improve staff (and client) satisfaction and ensure their loyalty. Our staff offers the following:
A genuine willingness to help people solve their technical problems
Extensive education, training, and experience in accurately understanding issues, providing instructions, and facilitating solutions
Polite and professional communication skills
Technical expertise with a personal touch
Furthermore, whether you need a single tech support agent or an entire team of help desk specialists, we can provide you with the staffing you require. Our outsourced services are also scalable to make sure that you get as much flexibility as possible.
Take your customer and technical support to the next level with outsourced help desk from MCVO Talent Outsourcing Services! Book a call today to schedule a free consultation or fill out our contact form.
Contact us for a free consultation or to request a proposal to find out how much you can save.
Small and Medium-sized businesses, CPA, Bookkeeping, and Financial Advisory Firms
"The adaptability is most impressive."