Outsourcing Services

We Offer
Hire Highly Talented Remote Staff Starting at $9/Hr. Book a call today or fill out the form below to tell us about your project.

Adam Fried
Simply Color Lab/Shoot Q
"MCVO has saved us thousands of dollars using their services. We have used them for customer service, digital work, and SEO work. Very good quality staff and follow through."

Dan Dettloff
Elite Entertainment
"MCVO has been such a time saver for us! Their work is high quality and they honor the timelines they promise. Additionally, communication and ease of working with this team has allowed us to deliver products to customers faster than we ever dreamed we could! The MCVO team consistently helps make our company rise above the rest. Working with MCVO is a great value and we highly recommend them to anyone looking for office support."
Some of our Happy Customers
Cost-Efficient Outsourcing Services in the Philippines
Full-Time & Part-Time Positions

With a full-service outsource staff in the Philippines and a sales office in Chicago, USA, MCVO Talent Outsourcing Services offers a wide range of solutions that help small to medium businesses get more tasks done while they continue to grow their enterprise. Our goal is to help companies in the U.S., U.K., Canada, and other countries that are looking to outsource back-end processes and related operational tasks to reliable technical staff while saving on costs.
As a BPO company, we aim to connect business owners with the right technical professionals. We do this by carefully screening our pool of talents and handpicking the best among them. This way, we are able to ensure the satisfaction of our clients and the professional growth of our staff.
Furthermore, to make sure that our services perfectly suit the needs of our customers, we provide full-time and part-time positions. Our services can be customized and scaled depending on your present needs. Because of this, you will only pay for the specific service or assistance you require.
Here are 6 Reasons to Outsource

Your company needs to reduce office labor cost
Fortune 500 companies have been realizing huge savings for 10+ years by working with BPO's in the Philippines, and now small businesses can too. With payroll being the #1 expense for most companies, most outsourced jobs will save 20-40K annually!

Creating a remote 2nd shift makes good business sense
There's more pressure than ever to deliver faster and having a 2nd shift to help process orders and enter data can help reduce your turnaround time dramatically. For departments with multiple employees (like Accounting and Marketing), having off-shore talent working after hours means that when you start your day, much of the daily work has already been completed by your remote team!

The cost of doing business keeps rising
Fueled by the rising cost of health insurance, cyber security, taxes and retaining talent, most US companies are facing an annual increase in expenses of 3-6%. Since it's hard to pass these increases onto your clients, to maintain profit margins smart companies are offshoring and outsourcing jobs and projects to BPO companies in the Philippines.

Your website needs a refresh
Websites are not only the "front door" but the "first impression" for many of your future and current clients. It must show current offerings, be mobile friendly and….look like it was updated recently. We have a team of in-house website designers who can help. Most projects average just $2,500 in cost.

You need customer support beyond 9:00 to 5:00
If prospects and clients are making decisions about your products and services beyond "9:00 to 5:00", having a remote after-hours team to answer their questions is no longer a luxury; it's a necessity. MCVO can provide customer facing talent "around the clock", to answer questions that help increase sales.

You'd rather hire contract workers than employees
With MCVO, you simply send us the Job Description and we handle the recruiting and HR related tasks to provide the talent that you need.
Get Outsourcing Services From the Best Team from the Philippines
When you decide to outsource to the Philippines, you want to work with the best. MCVO Talent Outsourcing Services is the name you can trust, as evidenced by our clients' feedback.
Want to get started with your own outsourcing journey? It begins with booking a call with us. By discussing your needs, we will be able to recommend the best solutions for you and plan ahead better. We look forward to be of assistance to you!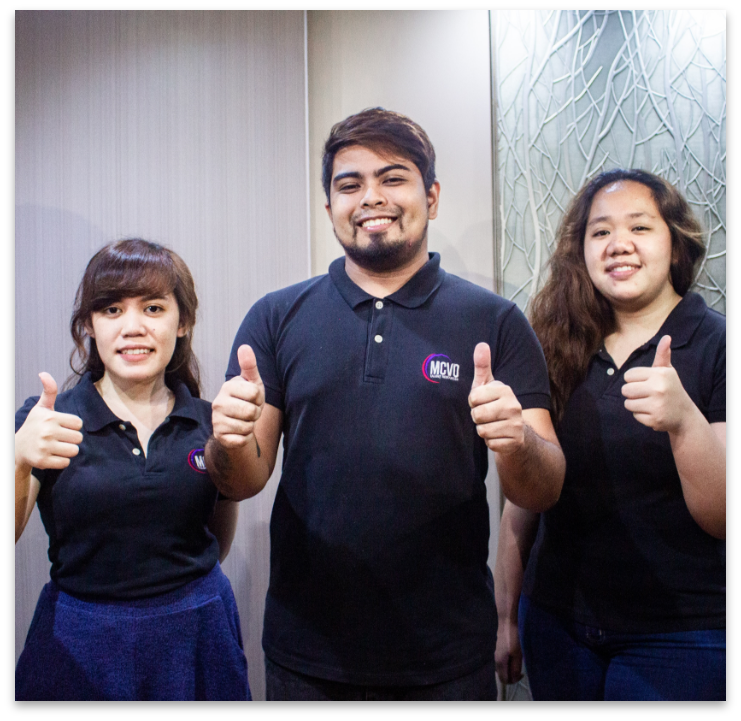 We love helping companies cut costs and grow
We'll help reduce costs to increase profits and investment in growth.