Outsource Medical Billing to the Philippines
We Provide the Best Medical Billers and Coders
Hire experienced and well-trained staff for all functions of medical billing starting at just $11.00/hour. Book a call today so we can discuss your needs and customize a solution for you.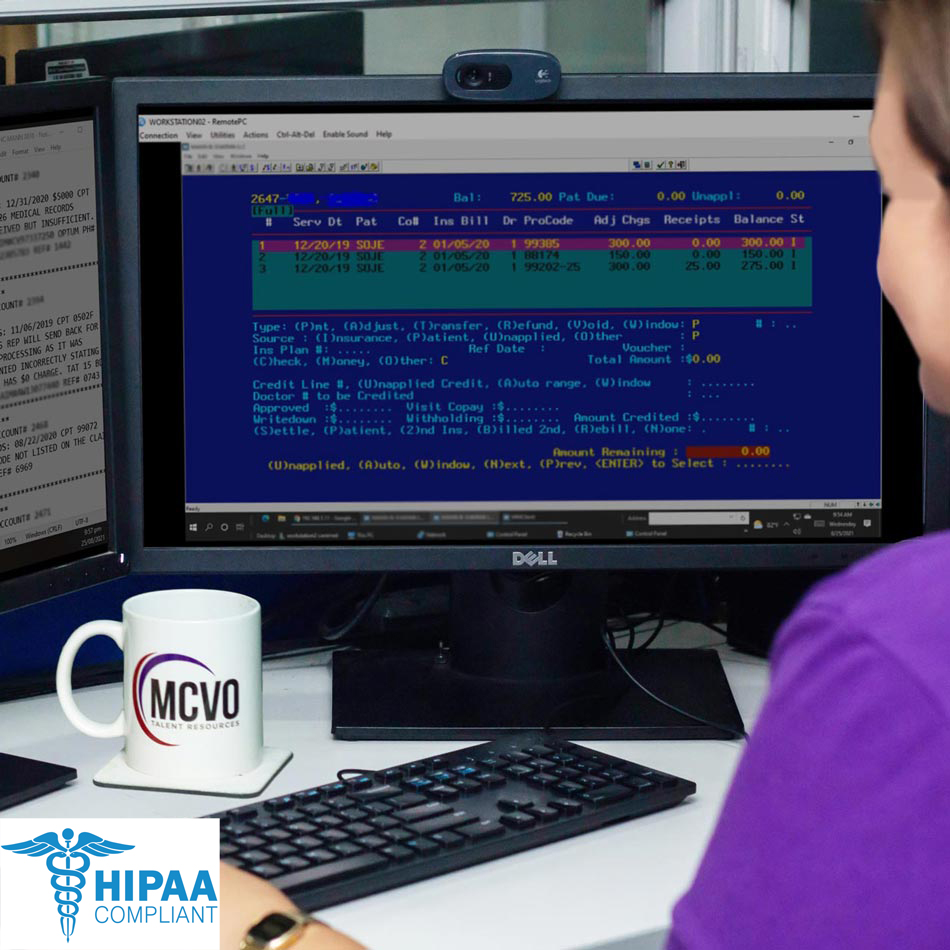 MCVO Talent Outsourcing Services offers outsourced medical billing solutions that are efficient, work on US hours, and can handle ALL facets of support. Our virtual healthcare assistants bring a wide range of specialties to the table, from medical billing and collections to insurance pre-authorization and claims processing.   We can support ANY type of medical practice and are experienced interacting with US-based medical practitioners.
MCVO offers custom medical billing packages that you can scale up (or down) depending on your organization's needs.  Build your own team, starting with a Team Lead, who has experience managing a team of outsourced Medical Billers. Most of our talents have Degrees in Nursing and many are former Nursing professionals. In addition to providing highly trained medical billing and insurance claims specialists, we also offer a practical solution to meet your budget requirements.
Why Choose MCVO for Your Medical Billing Needs?
Outsourcing Medical Billing to Streamline the Process and Save Time and Money
Managing patient records, processing insurance documentation and claims, and handling billing requirements can take a lot from your medical team. Worse, if you can't manage these promptly and properly, you may eventually hurt your bottom line as you run the risk of incurring claims denials. While you can of course hire another assistant locally, this would mean spending additional time and money on training and wages. And in this industry, constant updates and changes are the norm–you'll have to invest in training and technology to stay in line with the ever-developing protocols. 
As an outsourcing company in the Philippines that has been working with a number of clients from various industries including healthcare, we understand the value of consistency, accuracy, and efficiency. This is why in every outsourcing solution we offer, we make sure that our team is at par with the standards of our clients and their industries. As such, we are the best partner of healthcare providers in the US, UK, Canada, and Australia, among other developed countries, that are looking to get top-quality outsourcing solutions at a competitive price.
MCVO Talent Outsourcing Services can help you fill the following positions:
Medical Biller
Medical Coder
Credentialing and Certifications Specialist
Authorizations Specialist
Revenue Cycle Specialist
Insurance Claims Specialist
Healthcare Data Entry Operator, and more!
Discover what MCVO Talent Outsourcing Services can do for you. Get the right staff for your practice! Book a call today and let's talk about your medical billing and healthcare assistance needs.
Contact us for a free consultation or to request a proposal to find out how much you can save.
Medical practices of all types and medical billing companies.
"The adaptability is most impressive."