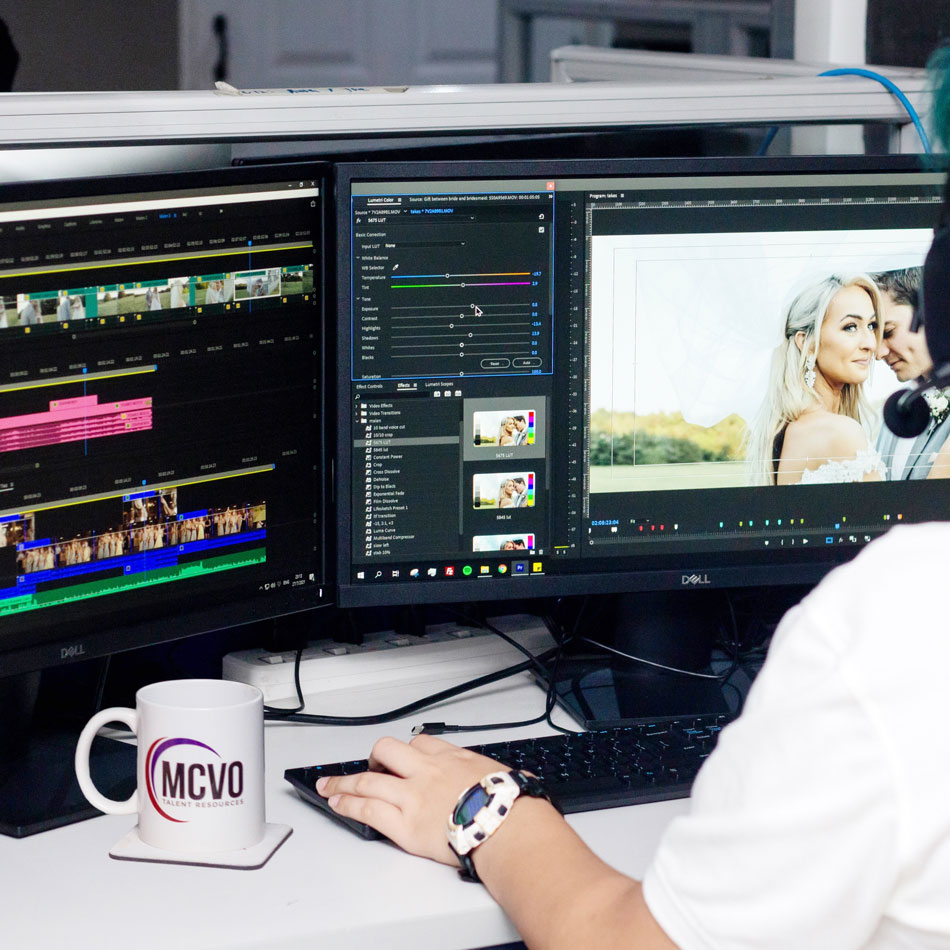 Outsource Video Editing


to the Philippines
We Provide the best
Video Editing Services
Hire Highly Talented Remote Video Editors Starting at $10/Hr. Book a call today or fill out the form tell us about your project.
MCVO Talent Outsourcing Services' video editing outsource services offer professionals more than just post-production support. We are the favored partner for wedding videographers, small businesses, and filmmakers.
Why Outsource Video Editing
Services to MCVO

We can edit Weddings, Mitzvahs, Corporate and any type of Social Event.

The highest quality of edited footage. We work hard to give your clips a professional look. Just specify the style, duration and goal of the clip.

Send us your order and get a video professionally edited in the shortest possible time. On average, it takes from 10 to 15 days.
Professional
Video Editing Services 
Video content has one of the most sought-after elements in the content marketing world. Thus, it goes without saying that having excellent video editing skills is critical to weave strong and influential brand stories.
Making stunning videos has become a priority in the business sector. However, it takes a highly skilled and experienced video editor to determine when to cut a shot when needed, choose a suitable score, and other essentials, which come up with this service. 
Our broad spectrum of diversified offerings enables us to match your particular requirements when you choose to outsource video editing services. We will help you throughout every step. The steps are basic, and we are always here by your side to guide you.
Our Services:
Background Score

Faulty Pixel Correction 

Color Correction

Shot Sequencing

Additional Effect

Background Noise Removal 
MCVO Talent Outsourcing Services, our video editors utilize the best of their creative skills to make and clean up your videos. You can rest assured the final result will be an influential visual representation of their dedication and quality into the project. 
On top of that, their certification and training mirror just how amazing their abilities are, to add a touch of genuineness to our video editing services.
We have already assisted startups and SMEs in creating simple, easy-to-use, and beautiful products as we believe remarkable animations and digital solutions are your right. 
Why don't you offer your videos a professional lift with our assistance? Request a free consultation today by calling us at 847-452-6550 or fill out the form to get started!

"MCVO Talent Outsourcing Services has been such a time saver for us!
Their work is high quality and they honor the timelines they promise.

Additionally, communication and ease of working with this team have allowed us to deliver products to customers faster than we ever dreamed we could! The MCVO team consistently helps make our company rise above the rest.

Working with MCVO is a great value and we highly recommend them to anyone looking for office support.

"

Dann Dettloff
Elite Entertainment
Contact us today to request a proposal or for a free consultation to find out how much you can save.