Nowadays, almost everything can be done online. Businesses have transitioned from traditional means to integrating state-of-the-art solutions like software, digital marketing, and virtual assistants. Here at MCVO Talent Outsourcing Services, we're committed to helping our clients by providing cost-effective services tailored to their needs.
Based in Makati, Philippines, we are a team that shows nothing less than professionalism and determination for our clients. Today, we're proud to announce and celebrate a wonderful award that reflects our industry expertise. During the annual Clutch Leaders Awards for 2022, MCVO Talent Outsourcing Services was hailed as the Philippines' leading virtual assistant services provider for 2022!
"It means a lot for our clients in the US, UK, Australia, and Canada and employees in the Philippines." — Chief Executive Officer of MCVO Talent Outsourcing Services
To give this award further context, Clutch is an independent B2B review and rating website from Washington DC. Every year, the platform holds an awards cycle to celebrate the best and brightest firms across various industries globally. The winners selected for each category have demonstrated unmatched dedication, thought leadership, the ability to deliver great results. Following their extensive research evaluation, the platform ranked MCVO Talent Outsourcing Services on their esteemed Leaders Matrix for our services and contributions.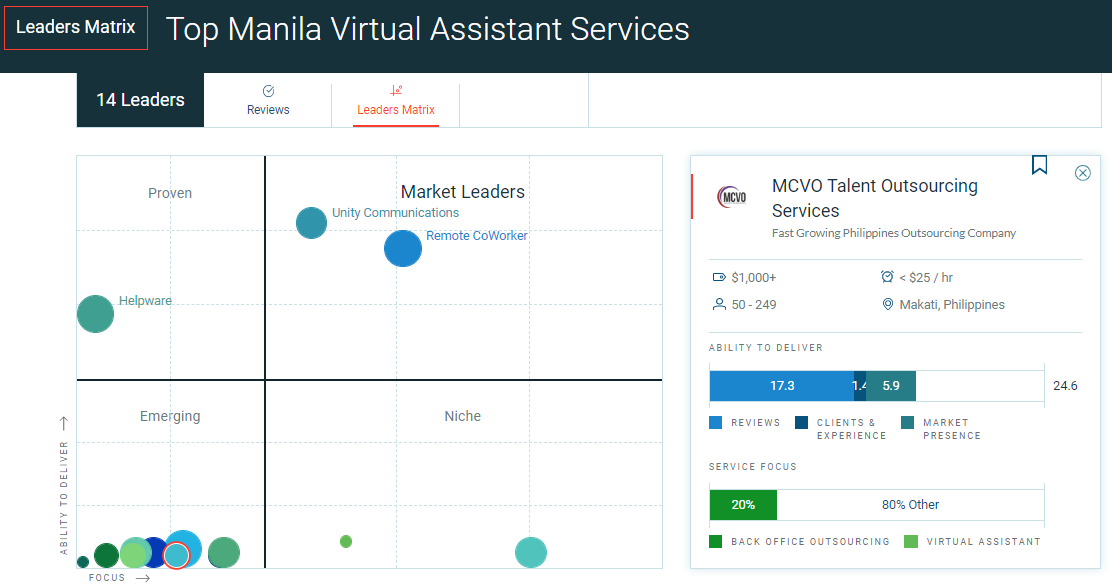 It's a massive honor for us to receive this award. Knowing that our clients' honest feedback helped make it possible humbles us. We'd like to seize this opportunity to send our sincerest appreciation to everyone who helped us get to where we are today. Thank you so much for the incredible trust and support! MCVO Talent Outsourcing Services is proud to be your trusted partner and a Clutch 2022 Leader!
Interested to work with MCVO Talent Outsourcing Services? Send us a message and let us know what you need. We're ready to help you digitally transform your business.