 MCVO Talent Resource Services is an outsourcing company in the Philippines with the Sales Office in Chicago that provides highly talented staff. We specialize in helping small businesses hire 1-5 outsourced jobs in the following areas: We can provide part time, full time, or project-based services.

Our outsourcing bookkeeping services are dedicated to lowering the accounting and finance expenses of our clients. We achieve this by helping them with bookkeeping, tax preparation, accounting, and management needs.

Our outsourcing customer support service integrates with your current methods, customer service staff, and processes to meet and go beyond your current standards while helping you boost overall staffing accessibility.

If you are considering outsourcing your web design projects, let us work together. Outsource your website design and see the advantages! Our service will offer you with professionally made designs by our expert web designers.

Our Software Development outsourcing services will help you design appealing and advanced products, which not just solve your purpose but redefine the way you work as well.

Our digital marketing outsourcing service is ideal for small-mid- to big-sized companies with lots of continuous in-house projects. It is perfect for other digital media companies who have a constant flow of tasks, which should be done regularly.

Our data entry specialists have a wealth of experience in different sectors. Take advantage by outsourcing data entry and other projects to us and reap the benefits.

Our video editing outsoursing services offer professionals more than just post-production support. We are the favored partner for small businesses, news agencies, filmmakers as well as individual wedding videographers.

With our graphic design outsourcing services, we have a team of experienced graphic designers, we offer dedicated resources when design studios require them the most.

Our photo and video editing outsourcing services offer professionals more than just post-production support. We believe in allowing our clients with lucrative and flawless outsourcing experience.

Our quality assurance outsourcing services help our partners deal with the quality of their deliverables while keeping expenses low with an emphasis on bespoke solutions and time-bound delivery.

Adam Fried
Simply Color Lab / Shoot Q
"MCVO has saved us thousands of dollars using their services. We have used them for customer service, digital work, and SEO work. Very good quality staff and follow through."

Dan Dettloff
Elite Entertainment
"MCVO has been such a time saver for us! Their work is high quality and they honor the timelines they promise. Additionally, communication and ease of working with this team has allowed us to deliver products to customers faster than we ever dreamed we could! The MCVO team consistently helps make our company rise above the rest. Working with MCVO is a great value and we highly recommend them to anyone looking for office support."
Some of our Happy Customers
Hiring outsource staff from the Philippines is easy!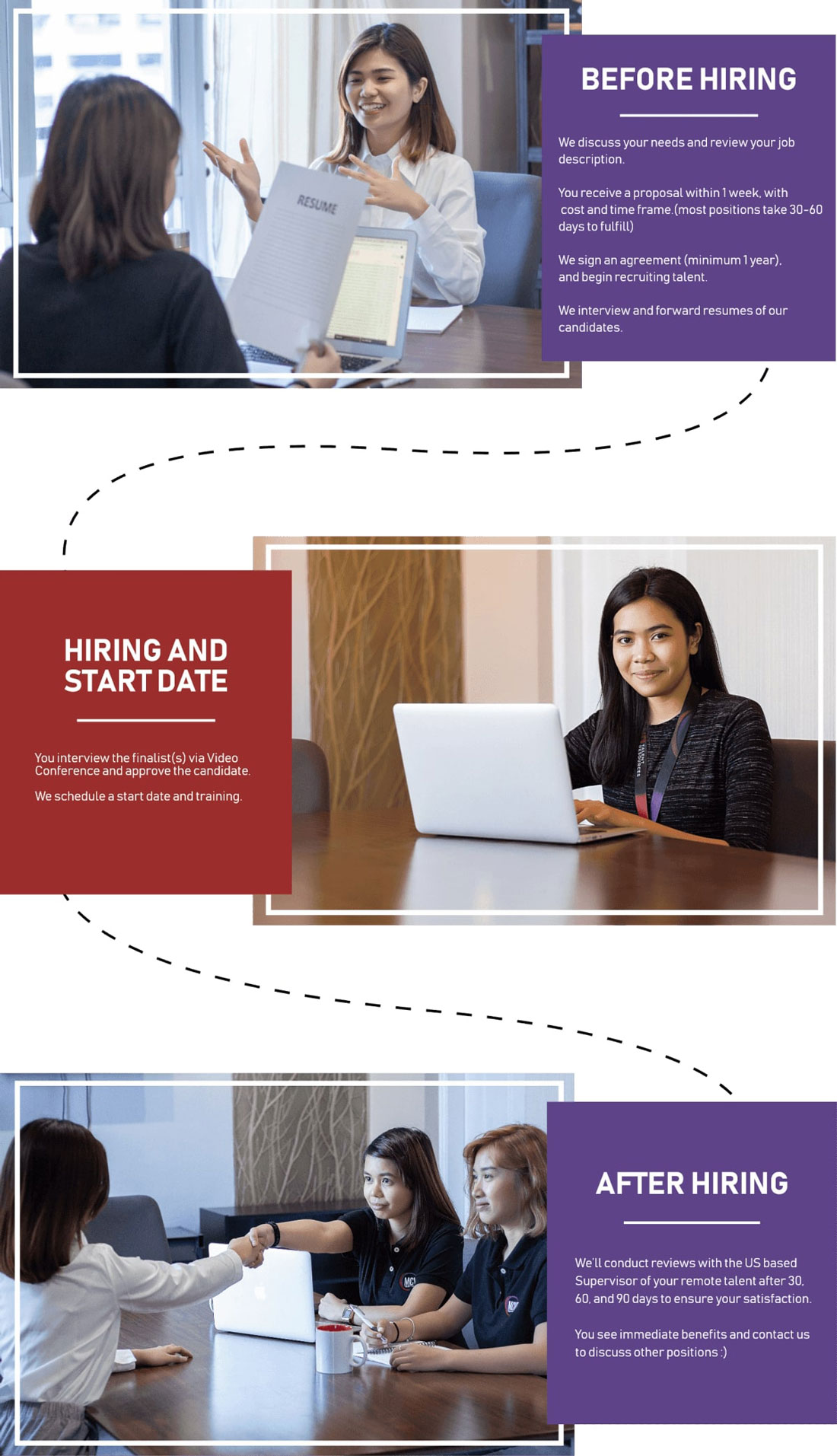 WE LOVE HELPING COMPANIES CUT COSTS AND GROW
We'll help reduce costs to increase profits and investment in growth.