Are you a fresh graduate interested in starting your career in the Philippines's rich BPO industry? There is an abundance of BPO companies in the Philippines. Currently employing over 1.3 million Filipinos, the BPO in the Philippines is projected to become a 29-billion-dollar industry by the end of 2022. Considering these impressive numbers, it's not surprising that many young bloods take an interest in building a career in BPO. If you want to start your professional journey in this industry, read on as we share with you some tips for building a successful BPO career in the Philippines.
Tips for Building a Successful BPO Career
1. Be open to learning.
BPO goes beyond call centers. As BPO stands for business process outsourcing, you should keep in mind that there are a number of business processes that companies can outsource. Aside from customer service, some of the back-office functions that can be outsourced include data entry, accounting, bookkeeping, medical billing, photo editing, video editing, digital marketing, and website design. Some businesses and entrepreneurs also hire virtual assistants who can perform various tasks.
When you're willing to learn new things, you can try out more opportunities. You can expand your career growth both horizontally and vertically.
2. Leverage your educational background.
As mentioned, "BPO" doesn't only entail call centers, although outsourced customer service is a huge part of the industry. Because of this, you can build a career in BPO even if your educational background is not exactly related to communication. For instance, nursing graduates can find opportunities in outsourced medical billing. Meanwhile, accounting graduates can work with companies looking for outsourced accountants and bookkeepers. Those who graduated from courses such as multimedia arts can also apply to photo editing jobs.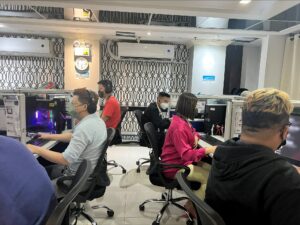 3. Stay flexible and ready for changes.
The BPO industry is an ever-growing and ever-changing one. If you want to succeed, you need to be ready for changes. These include being matched with different clients, working with different teams and teammates, changing shifts, and adopting new processes, to name a few. When you're in a fast-growing company, you need to be ready to grow, too!
4. Choose a company that cares about your growth.
Not all BPO companies are cut equal. You've probably already heard that toxic cultures and office politics are common problems in BPO firms. If you want to enjoy growing your BPO career, you must work with a company that will promote and nurture your professional growth. You should also join a team that treats its members as family.
Start Your Career in BPO at MCVO Talent Outsourcing Services!
As a multi-awarded BPO company in the Philippines, American-owned MCVO Talent Outsourcing Services aims to be one of the leading outsourcing companies in the Philippines that provides lucrative and fulfilling career opportunities. Join us if you want to build a great career in the BPO industry! We have a number of BPO job openings that may suit your educational and professional background. Learn more about what we do and see why you should join our growing team!