The business process outsourcing (BPO) industry is still among the continuously growing industries in the Philippines. The value and benefits of outsourcing became even more pronounced recently as many companies explored ways to keep their businesses afloat amid the economic challenges brought about by the COVID-19 pandemic. As a leading outsourcing destination, the Philippines is home to some of the top outsourcing agencies in the world. And in this post, we name the 10 best BPO companies in the Philippines.
1. MCVO Talent Outsourcing Services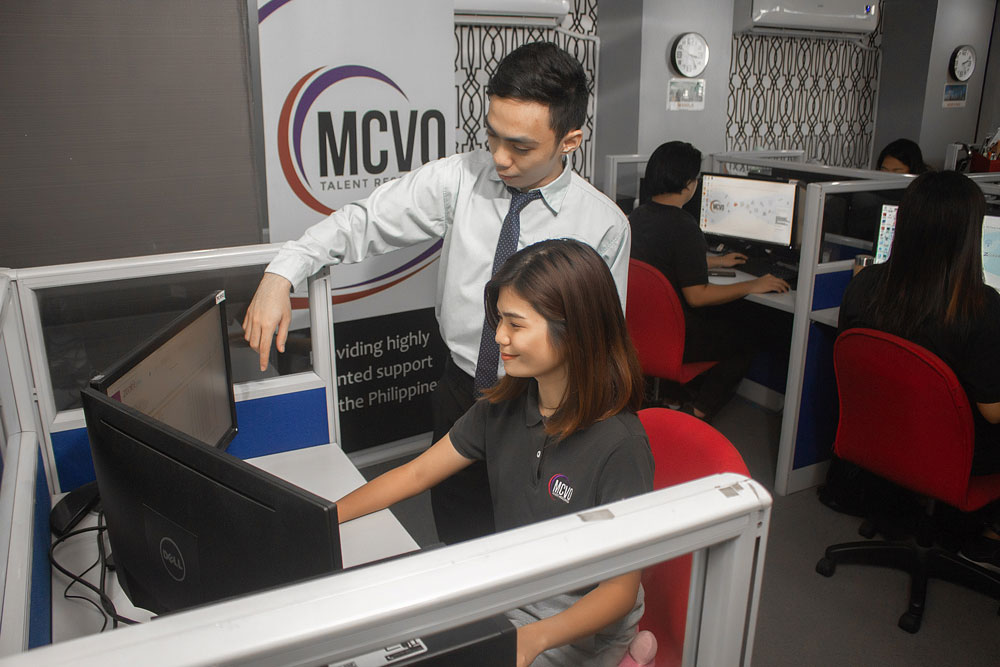 Established in 2017, MCVO Talent Outsourcing Services has proven to be a force to be reckoned with. It started when a Filipino-born COO of a US-based company ventured into outsourcing web development and marketing processes to professionals in the Philippines. Five years later, the company's outsourced team grew to a staff of more than 20. As their company experienced the benefits of outsourcing, they recognized the opportunity to have other businesses benefit from this business solution as well.
Because of this, that COO, Cherry V. Orlina, eventually established MCVO Talent Outsourcing Services and became its CEO. Being Filipino-born, she has an understanding of the Filipinos' work culture and at the same time, she knows how US businesses work. As a result, MCVO is able to provide outsourcing solutions that benefit both clients and employees.
Today, MCVO Talent Outsourcing Services offers a wide range of services:
MCVO also offers technical staffing for network systems administration, IT help desk, medical billing, and more. The company has also received numerous accolades. Just recently, MCVO was named as one of the Top BPO Companies in 2021 by Clutch.co.
2. Accenture
With clients from over 120 countries, Accenture is undoubtedly one of the biggest BPO companies in the world. In fact, it is also one of the world's most valuable brands. Accenture started its operations in the Philippines in 1985. Currently, its Philippine arm handles a wide range of functions in the technology and operations aspect. Accenture mostly caters to large enterprises in the health, science, banking, capital markets, and insurance, among many other industries.
3. Teleperformance
Founded in 1996 as Telephilippines Inc., Teleperformance is one of the country's biggest providers of outsourced call center and customer experience services. It operates around 20 call centers across the Philippines. The company services clients in more than 150 countries, from industries such as retail, finance, and aviation.
4. Convergys
Convergys is one of the biggest BPO companies in the Philippines. It operates almost 30 call centers across the country. The company specializes in information management products and customer service solutions, primarily catering to large corporations in the field of insurance, finance, travel, and retail.
5. Sykes
Sykes is a global business that provides multi-channel customer engagement and demand generation services for over 2000 companies worldwide. It has been awarded as the Top Employer of the Year during the 10th Asia CEO Awards. Sykes started its operations in the Philippines in 1997. Sykes serves enterprises in various industries including finance, transportation, technology, healthcare, communication, and leisure.
6. 24/7 Customer Philippines Inc.
Operating as [24]7.ai, this BPO company was established in 2006 in the Philippines. By 2013, it was already recognized as one of the top BPO companies in the Philippines based on revenue. It is widely known for its quality AI solutions that allow its clients to provide their customers with a predictive and personalized customer experience.
7. STAFFVIRTUAL
STAFFVIRTUAL specialized in providing human resource management solutions, providing companies with affordable outsourced staffing solutions. The company helps its clients find staff for IT services, customer support, and recruitment. Most of STAFFVIRTUAL's clients are from the financial, retail, and education sectors.
8. Sutherland
Sutherland Global Services Philippines Inc. is a global provider of analytics-driven business process solutions and services. It offers a wide range of services, from design to project management, as well as customer behavior analytics. Their clients come from industries such as media, banking, and retail.
9. Sitel
Sitel is one of the most popular BPO companies in the Philippines. It is particularly known for its customer service and experience services. As one of the biggest call center companies in the Philippines, it serves clients in retail, health, and travel, among other industries.
10. VXI Global Solutions
VXI Global Solutions was established in 1998 in Los Angeles. Eventually, it found its way to the Philippines. It provides various customer care and experience solutions, as well as software development, quality assurance, and infrastructure outsourcing services to some of the world's top brands.
Which of These Best BPO Companies in the Philippines Suit You?
Indeed, the Philippines is home to outstanding BPO companies. As such, you may find it a challenge to choose which one deserves your business, trust, and investment. However, if you're a small business looking for more than just a call center–a company that can cater to multiple needs at once at a fraction of the cost, then MCVO Talent Outsourcing Services is the one for you. You can take our word for it, but if that doesn't sit well with you, then our clients' testimonials might just do the trick. Furthermore, we won't be named one of the top BPO companies in the Philippines for nothing.
Book a call today and let's talk more about your needs! We'll customize a proposal and solution exclusively for you.