As a BPO company catering to small to medium businesses in and out of the US, MCVO Talent Outsourcing Services has always made sure that our clients get the best of outsourcing support. All our efforts considered, our hearts are full as we are once again named as one of the Top BPO Companies 2021 by none other than the respected and trusted B2B review platform, Clutch!
Last year, Clutch also included us in their ranking for top BPO companies in the Philippines. Now, what does getting these accolades mean?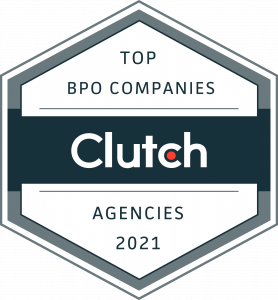 Having Happy Clients Means Growth and Success
Clutch ranks B2B companies based on client testimonials, reviews, and ratings. Fortunately, our clients did not let us down! Our hearts are full reading the reviews they left on our Clutch page. As of this writing, our overall score is 4.9 stars out of 5! We are more than grateful that our clients recognize our team's hard work and the quality of our services.
Indeed, client reviews can make or break any business. This is why we always encourage our current and past clients to leave us testimonials. Positive reviews not only help boost the confidence of prospective clients but also motivate us to keep on improving our work and solutions. As such, we highly treasure how our customers take the time to review our services and staff.
Choose One of the Top BPO Companies 2021 for Your Outsourcing Needs
Outsourcing offers a wide range of benefits for companies big or small. If you need to outsource back-end tasks, wouldn't you want to put your investment in the hands of one of the top BPO companies for 2021?
Since our founding, MCVO Talent Outsourcing Services continues to develop and improve our growing list of outsourcing services. Being recognized by organizations such as Clutch is just one of our goals — ultimately, we aim to continue providing the best outsourcing services a BPO company can offer. Experience the MCVO difference now! Book a call today so we can talk about your needs and allow us to customize a solution just for you.